About Us
Tay Fry Inn is a Fish & Chips takeaway in Dundee. Why don't you try our Full Pizza (Battered) or Gravy?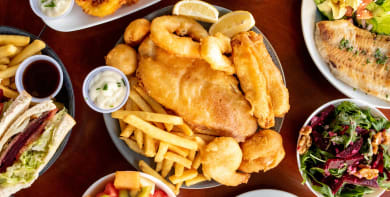 Reviews
200 reviews
Amber
"Ordered curry sauce and was given gravy however the food was good"
05/04/2021
Lucy
"Fast hot n really tasty!"
04/04/2021
Kenneth
"Excellent"
24/03/2021
Margaret
"Always great quality and very tasty. My fave fish and chip shop"
15/03/2021
Menu
Smoked Sausage (Battered) Single
£2.85
Smoked Sausage (Battered) Supper
£4.80
Small Sausage 2 Pieces Single
£2.75
Small Sausage 2 Pieces Supper
£4.70
Haddock (Battered) Single
£4.75
Haddock (Battered) Supper
£6.70
Full Pizza (Battered) Single
£4.95
Full Pizza (Battered) Supper
£6.90
Half Pizza (Battered) Single
£2.75
Half Pizza (Battered) Supper
£4.70
Diet Coca-Cola Big Bottle
£3.00
Coca-Cola Zero Sugar - 0.33L
£1.00
Red Bull Energy Drink - 250ml
£1.99
Red Pudding (Saveloy) Single
£2.75
Red Pudding (Saveloy) Supper
£4.70
Chicken Nuggets (8) Single
£3.65
Chicken Nuggets (8) Supper
£5.60
Squeeze Me Sauce Mayonnaise
£0.45
Squeeze Me Sauce Garlic Mayonnaise
£0.45
Cheeseburger (Battered) Single
Not served in a bun but should you wish for a bun please order separately
£3.25
Cheeseburger (Battered) Supper
Not served in a bun but should you wish for a bun please order separately
£5.20
Spam Fritter (Battered) 2 Pieces Single
£2.25
Spam Fritter (Battered) 2 Pieces Supper
£4.20
Kids Chicken Nuggets & Chips
£3.99
Kids Quarter Battered Pizza & Chips
£3.99
Contact Us
Find Us
181-183 Perth Road, Dundee, DD21AS
We deliver to
DD1, DD2, DD3, DD4