About Us
Tay Fry Inn is a Fish & Chips takeaway in Dundee. Why don't you try our Full Pizza (Battered) or Gravy?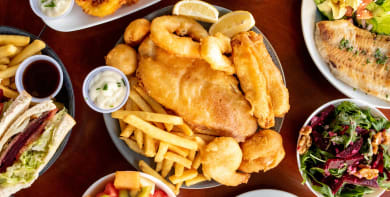 Reviews
154 reviews
Daniel
"Excellent service"
13/06/2021
Michelle
"Best chipper to date 😀❤️"
12/05/2021
Mandy
"If it was a bit hotter would have marked higher"
08/05/2021
Fiona
"This was a lush fish and chips meal. Our youngest had Macaroni cheese. Really fresh and tasty. Highly recommended."
07/05/2021
Menu
Coca-Cola Zero Sugar 330ml Can
£1.00
Coca-Cola Original Taste 330ml Can
£1.00
Coca-Cola Original Taste 500ml Bottle
£1.75
Diet Coca-Cola - Big Bottle
£3.00
Fanta Orange - Big Bottle
£3.00
Fanta Orange 500ml Bottle
£1.75
Red Bull Energy Drink - 250ml
£1.99
Haddock (Battered) Single
£4.75
Haddock (Battered) Supper
£6.70
Chicken Nuggets (8) Single
£3.65
Chicken Nuggets (8) Supper
£5.60
Red Pudding (Saveloy) Single
£2.75
Red Pudding (Saveloy) Supper
£4.70
Cheeseburger (Battered) Single
Not served in a bun but should you wish for a bun please order separately
£3.25
Cheeseburger (Battered) Supper
Not served in a bun but should you wish for a bun please order separately
£5.20
Spam Fritter (Battered) 2 Pieces Single
£2.25
Spam Fritter (Battered) 2 Pieces Supper
£4.20
Smoked Sausage (Battered) Single
£2.85
Smoked Sausage (Battered) Supper
£4.80
Small Sausage 2 Pieces Single
£2.75
Small Sausage 2 Pieces Supper
£4.70
Full Pizza (Battered) Single
£4.95
Full Pizza (Battered) Supper
£6.90
Half Pizza (Battered) Single
£2.75
Half Pizza (Battered) Supper
£4.70
Squeeze Me Sauce Garlic Mayonnaise
£0.45
Squeeze Me Sauce Mayonnaise
£0.45
Kids Chicken Nuggets & Chips
£3.99
Kids Quarter Battered Pizza & Chips
£3.99
Contact Us
Find Us
181-183 Perth Road, Dundee, DD21AS
We deliver to
DD1, DD2, DD3, DD4