About Us
Tay Fry Inn is a Fish & Chips takeaway in Dundee. Why don't you try our Full Pizza (Battered) or Gravy?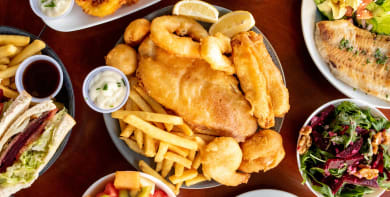 Reviews
143 reviews
Kirsty
"Wow amazing food once again! Perfect temperature. Cannot recommend the potato fritters enough- so good! Will be ordering again!"
17/07/2021
Bob
"Food was great will definitely order again"
10/07/2021
Laura
"Food was fresh, hot and delicious. Very friendly service too, thanks!"
02/07/2021
Colin
"Courteous service with fast delivery and delicious meal. Superb."
22/06/2021
Menu
Chips, Cheese & Curry Sauce
£4.55
Cans 330ml Coca Cola Original
£1.00
Cans 330ml Diet Coca Cola
£1.00
Cans 330ml Tango Original
£1.00
Coca-Cola Original Taste 330ml Can
£1.00
Coca-Cola Original Taste 500ml Bottle
£1.75
Fanta Orange 500ml Bottle
£1.75
Small Bottles 500ml 7- Up
£1.75
Small Bottles 500ml Coca Cola Original
£1.75
Small Bottles 500ml Diet Coca Cola
£1.75
Small Bottles 500ml Diet Irn Bru
£1.75
Small Bottles 500ml Fanta Orange
£1.75
Small Bottles 500ml Irn Bru
£1.75
Small Bottles 500ml Pepsi
£1.75
Small Bottles 500ml Pepsi Max
£1.75
Small Bottles 500ml Sprite
£1.75
Big Bottles Coca Cola Original
£3.50
Big Bottles Diet Coca Cola
£3.50
Coca-Cola Zero Sugar 500ml PET Bottle
£1.85
Haddock (Battered) Single
£4.80
Haddock (Battered) Supper
£7.00
Chicken Nuggets (8) Single
£3.75
Chicken Nuggets (8) Supper
£5.95
Red Pudding (Saveloy) Single
£2.80
Red Pudding (Saveloy) Supper
£5.00
Cheeseburger (Battered) Single
Not served in a bun but should you wish for a bun please order separately
£3.30
Cheeseburger (Battered) Supper
Not served in a bun but should you wish for a bun please order separately
£5.50
Spam Fritter (Battered) 2 Pieces Single
£2.60
Spam Fritter (Battered) 2 Pieces Supper
£4.80
Smoked Sausage (Battered) Single
£3.00
Smoked Sausage (Battered) Supper
£5.20
Small Sausage 2 Pieces Single
£2.95
Small Sausage 2 Pieces Supper
£5.15
Full Pizza (Battered) Single
£5.00
Full Pizza (Battered) Supper
£7.20
Half Pizza (Battered) Single
£2.80
Half Pizza (Battered) Supper
£5.00
Kids Chicken Nuggets & Chips
£4.20
Kids Quarter Battered Pizza & Chips
£4.20
Contact Us
Find Us
181-183 Perth Road, Dundee, DD21AS
We deliver to
DD1, DD2, DD3, DD4